Costs & Financial Options
You are your best investment
It's true. No matter what you've believed in the past, a confident and radiant smile can be within reach. And if you think about it, improving your smile is an important investment, because you're doing it for yourself.
How much does orthodontic treatment cost?
There are many factors that determine the cost of your treatment: the extent of the issues you want corrected, how long your treatment plan will last, and the specific treatment details prescribed by Dr. Jerrold Hennes. We strive to make our orthodontics in Vista and Poway, California, affordable to everyone. You can get a beautiful, healthy and straight smile with conventional braces or Invisalign® for about the same cost.
Payment Options
Our orthodontist takes several financial options for the payment of service fees, including:
Monthly payments as part of our in-house financing
Flexible payment arrangements to help optimize flexible spending plan benefits
Most major credit cards accepted
Automated monthly credit card payments available
Cash
Checks
CareCredit
Insurance
At Hennes Orthodontics, we take most dental insurance plans. Talk to your insurance provider to determine the extent of orthodontic coverage that you have available. If your dental plan covers orthodontics, we will be happy to apply for your benefits for you. If you have an orthodontic benefits, conventional braces and Invisalign are usually both covered


Patient Forms
We are glad that you are interested in becoming a patient of Dr. Jerrold Hennes. New patients are always welcome here. Everyone at Hennes Orthodontics is committed to making your visits pleasant and stress-free. You can count on our friendly, highly-experienced team to always provide the highest standard of dental and orthodontic care in a clean, state-of-the art environment. Your comfort is our top priority. We look forward to seeing you soon!
For your convenience, our new patient forms can be viewed and printed online through our website. Simply fill out the forms and bring them with you on your first visit with our orthodontist in Vista and Poway, California.
hennes-ortho-form-adult
hennes-ortho-form-child
Special Offers
Our orthodontist and team do what we can for our patients so they can have a great experience at Hennes Orthodontics. Below are a few promotions Dr. Jerrold Hennes provides so you can receive discounts and have an even better experience at our orthodontic offices in Vista and Poway, California. Call our team today to learn more about our current special offers.
No charge on consultations. New patients can also receive free digital panoramic X-rays as part of this promotion.
We offer $500 off of treatment fees as a courtesy for new patients receiving any full treatment.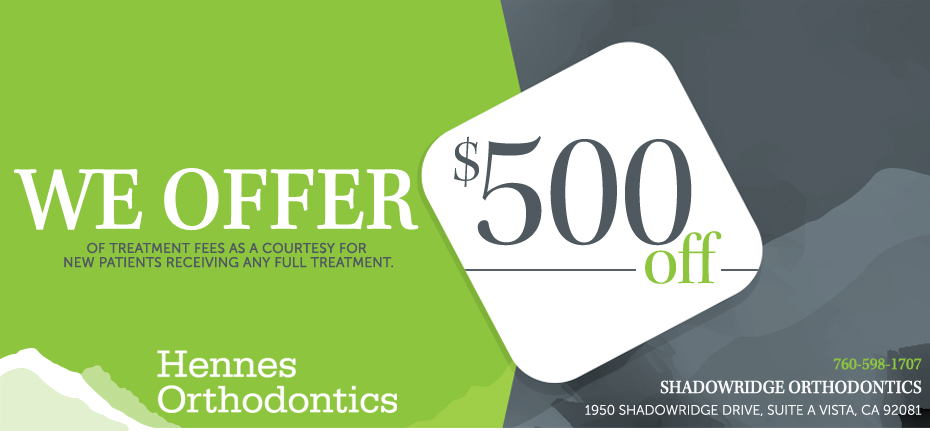 We have ongoing contests in our office where you collect tickets for being on time to appointments and maintaining your oral health. Through these tickets, you can win prizes like gift cards and movie passes. Take a look at our Fun Zone page if you want to learn more.